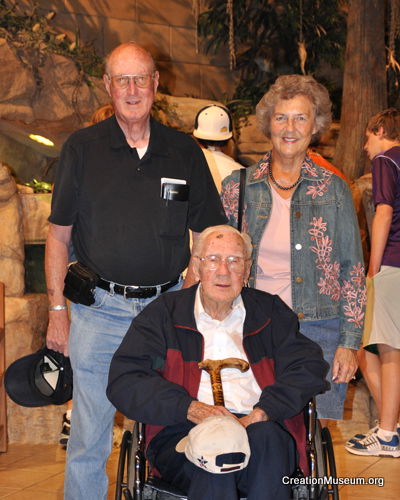 With a ready smile and a gentle way, Edward Ristow Sr. visited the Creation Museum recently with his son Edward Jr and daughter in law Pat. One wouldn't expect from talking to him that he had just celebrated his 101st birthday on April 13th.
Edward is originally from New Jersey where he worked for the New Jersey state highway department for 51 years after starting as a thirteen years old boy. After retiring from his position as supervisor of records, Edward moved to Buckeye, Arizona to live with his son and daughter in law. During all of those years he served God in many capacities. He has served as a minister, Sunday school superintendent, and at age 99 a senior Bible Study teacher.
One of Edward's fondest memories is of listening to Henry Morris at a conference in San Diego, California thirty eight years ago. He remembered that the topic concerned how so many animals could get on the Ark and that some of them may have slept or hibernated.
When asked what brought them to the Creation Museum, Edward's daughter in law explained that they were on their way to visit family in Pennsylvania. Normally they would fly but Edward requested that they drive so they could visit the Museum. Edward has been featured on the Today Show twice because of his longevity, and he praises God for his good health and alert mind.